I have always loved
Soft Boiled Eggs
. My children do, as well.
My older daughter remembers eating
Soft Boiled Eggs
with her
Pra-Wujek (Great-Uncle)
in Poland less than two years ago during
her first trip to the country of my birth
.
And everytime I make them, she reminds me.
To make a soft boiled egg, begin by bringing water to bowl in a saucepan. In the meantime, place an egg in warm water in a bowl. This is to prevent cracking when you drop it in the hot water in the saucepan. When the water is boiling gently, place the egg very carefully using a slotted spoon into the water. Boil for 3 minutes. Remove and run briefly under cool water to peel shell easier, or use an Egg Holder and eat by cracking the top off and spooning out (my favorite way but, of course, during packing for our move they were broken).
It seems like such a simple thing and yet, it brings back memories for her that there are other people in this large world who are her family and love her.
Beyond my small immigrant family who are spread out across this vast continent, seperated from our roots by a vast ocean and too many years of trying to chase that elusive "American Dream" and fill the void that being an immigrant causes.
Beyond my husband's very large family with their constant emotional distance from one another.
It's amazing what a small egg can do...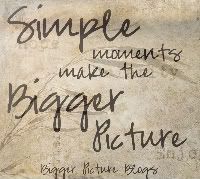 Smacznego!
Please visit Alita for the Bigger Picture...